We believe that giving back and being a vital part of the community is a huge part of who we are.
Paws for the Cause is a dog event that we sponsored to benefit Pilot Dogs, Inc. located in Columbus, Ohio. They are a non-profit organization that trains and places service dogs for the visually impaired. This is an event where dog owners can come together and enjoy a dog walk/run, see demonstrations, be introduced to local vendors, participate in different events and have a day of fun with their furry friends! Thank you to all of our amazing participants and helpers for making this day a great success and enabling us to help this wonderful organization.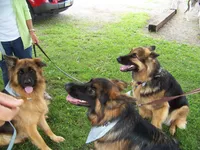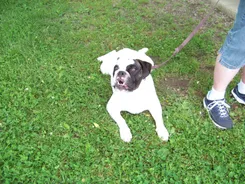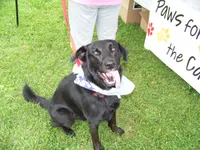 Dog Wash
Benefiting 4 Paws for Ability
4 Paws for Ability trains service dogs for children with disabilities all over the world. They also work with veterans who have lost their limbs or hearing during active duty. We had hot dogs, chips, drinks, toys and raffle tickets for baskets available for purchase. None of this would have been possible if it was not for our generous Sponsors which include: Peoples Savings Bank of Urbana, Champaign Dental Group, Buckeye State Paranormal, Delta Armory, Brugh's Auto and Tire, Royal Canin, Virbac, MWI Animal Health, Auto Zone, Civista Bank, Wreck-A-Mended, Farmers Equipment, Michael's Pizza of West Liberty, and Willman Furniture Co. We can not thank everyone enough for their participation. All of the proceeds went to 4 paws for ability. We were able to make a donation of over $1,000 thanks to everyone who was involved. 4 Paws for ability also host a walk / 5K every year and the Pet Clinic participates every year!
Food Drive
We like to host food drives / donation drives a few times a year for local non-profit businesses. We like to work with the Wherehouse that is associated with the Urbana United Methodist Church. The Wherehouse is a food pantry that helps families in need. They take non-perishable food items along with other necessities such as shampoo, conditioner, toothpaste, laundry soap and more. These donations would not of been possible if it was not for the participation of our amazing clients and the contribution of Royal Canin and Pet Smart in Springfield. In the past the Pet clinic has not only donated to the Wherehouse but has also volunteered at the Wherehouse. We are always looking for ways to contribute and help out the community.
ProHeart Clinic
We have a ProHeart Clinic every 6 months. At the clinic we provide a FREE heartworm test and a discounted ProHeart injection. ProHeart is a heartworm prevention that last 6 months. Heartworm prevention should be given year around! If you purchase 6 months of flea / tick prevention The Pet Clinic already provides a discount of 15% off a dose BUT if you purchase during our ProHeart Clinic we will take an additional $5.00 off the total price. We are always looking for fun new ways for our clients to save money. We try and make this day just as fun for your furry friends and provide them with goody bags full of fun toys and / or treats!
Rabies Clinic
September 28th is world Rabies day. This day is held to help raise awareness on the importance of rabies prevention. At this clinic we provide a discounted $20.00 exam and FREE 1 year rabies vaccine. Rabies is preventable and has been found in our area. We are always looking for ways to educate our clients and help them save money. The Pet clinic now requires all pets to be up to date on their rabies vaccine per clinic policy so this would be a great time to get your pet up to date!
Some other local groups that we support:
4-H Dog and Horse groups at The Champaign County Fair

Triad Cheerleading

Paws Animal Shelter

Urbana Youth Travel Basketball
West Liberty-Salem Soccer Association and Baseball Association

Messiah Lutheran Church
---